I read a lot of fiction and write occasional reviews. Some of my favorite books are listed below. You can also find more reviews on Goodreads.com.
---
---
Strange Weather in Tokyo, by Hiromi Kawakami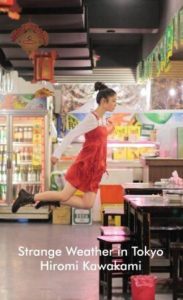 FEBRUARY 2019 — I adored this delicate and haunting story of Tsukiko, a lonely, thoughtful 38-year-old woman (she seems much younger!) and her former teacher, Mr. Matsumoto, whom she can only think of, and address, as Sensei — which can mean teacher, but is also an honorific that can be translated as a person born before another, or one who comes before. The story of their growing fondness for one another and deepening relationship moves ever so gently and quietly.
As Tsukiko tells us, the first part of her name (Tsuki) is the Japanese word for moon. I looked up the name and found that "ko" means child. And indeed, Tsukiko is very childlike for a woman of 38, and this comes up often in the book — that she feels like a child, or that Sensei thinks of her as childlike.
Tsukiko says, "I, on the other hand, still might not be considered a proper adult. I had been very grown-up in primary school. But as I continued through secondary school, I in fact became less grown-up. And then as the years passed, I turned into quite a childlike person. I suppose I just wasn't able to ally myself with time."
"Forcing myself to make conversation felt like standing on a cliff, peering over the edge, about to tumble down headfirst."
Tsukiko and Sensei usually meet by chance, often in the same bar, and end up drinking and eating and talking softly and sparely. They mainly drink beer or saké and eat many interesting (and to me, foreign) foods. The story is told from Tsukiko's point of view and I thoroughly enjoyed her descriptions — of Sensei and other characters, but even more, of the world around her and the way she notices the details of nature. In fact, I often felt as though I were reading poetry. And I noticed the way that nature seemed to mirror Tsukiko's thoughts and emotions.
In fact, as the Japan Society puts it (on the back cover): "Each chapter of the book is like a haiku, incorporating seasonal references to the moon, mushroom picking and cherry blossoms. The chapters are whimsical and often melancholy, but humor is never far away. It is a celebration of friendship, the ordinary and individuality and a rumination on intimacy, love and loneliness. I cannot recommend Strange Weather in Tokyo enough, which is also a testament to the translator who has skillfully retained the poetry and beauty of the original."
"A flurry of voices rose up from the tidal flat. The camphor tree outside the window made a rustling murmur. Sensei and I stood there in a daze, to-go glasses of saké in our hands. The leaves of the camphor tree outside my window murmured, Come here."
So much subtlety and tenderness. A joy to read.
I also love the physical book, the cover illustration in particular. I usually read on Kindle these days, but am glad I bought the paperback in this case.
Where the Crawdads Sing, by Delia Owens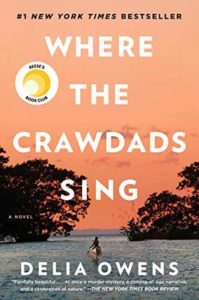 FEBRUARY 2019 — Unusual and engaging story and some beautiful descriptive writing. At times heart-rending, at others heart-pounding. I was completely immersed emotionally, and read so fast I felt bad for not slowing down to savor the gorgeous writing.
Interesting aside: This is the Delia Owens who wrote Cry of the Kalahari in the 1980s, followed by other nonfiction books. This is her first novel. Stunning!
---
---
Monsoon Mansion: A Memoir, by Cinelle Barnes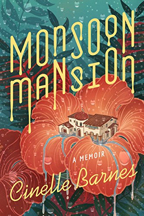 FEBRUARY, 2019 — A brief review, wherein I pull out all those overused adjectives we are counseled not to use: lyrical, luminous, mesmerizing, stunning, poignant, compelling, riveting, unflinching, and unputdownable.
I read the whole book thinking it was fiction. Right, I just didn't notice the word "Memoir" on the cover. I hardly noticed the cover because I got this via Kindle Unlimited. Also, on the Kindle, it opened immediately to Prologue, so I missed the Author's Note, in which she makes it clear that this is a memoir. And moreover, Barnes acknowledges that a child's memories are unreliable, but she has told her story to the best of her ability and corroborated her memories with research and interviews, as well as photos, videos, newspaper articles, vital records, court cases, affidavits, maps, and Google Earth. And yes, she's changed the names of certain people, places, and businesses to protect and safeguard privacy.
I thought it was fascinating, brilliant in fact, when I was reading it as a novel. Finding out that it was a memoir blew me away. This is a harrowing story told through the most vivid and cinematic — as well as lyrical — writing I've seen in a long time. Barnes is a wonderful writer. And the story is packed with larger-than-life "characters," with suspense and horror, with love and sorrow and resilience.
Darn, I'm going to have to read this again. And give it to friends. And buy my own copy, too.
Asymmetry, by Lisa Halliday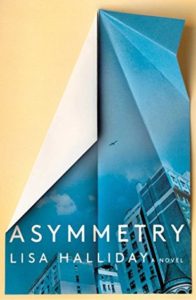 FEBRUARY 2019 — First, a little about the book (from the Goodreads description: "A singularly inventive and unforgettable debut novel about love, luck, and the inextricability of life and art, from 2017 Whiting Award winner Lisa Halliday. Told in three distinct and uniquely compelling sections, Asymmetry explores the imbalances that spark and sustain many of our most dramatic human relations: inequities in age, power, talent, wealth, fame, geography, and justice. The first section, Folly tells the story of Alice, a young American editor, and her relationship with the famous and much older writer Ezra Blazer. A tender and exquisite account of an unexpected romance that takes place in New York during the early years of the Iraq War, Folly also suggests an aspiring novelist's coming-of-age. By contrast, Madness is narrated by Amar, an Iraqi-American man who, on his way to visit his brother in Kurdistan, is detained by immigration officers and spends the last weekend of 2008 in a holding room in Heathrow. These two seemingly disparate stories gain resonance as their perspectives interact and overlap, with yet new implications for their relationship revealed in an unexpected coda."
And my thoughts: I had heard, before I started reading, that this would be a bit of a puzzle, that it might be hard to figure out how the three sections were tied together. I definitely picked up some of the hints, reverberations back and forth between the three parts of the book, but missed a lot too. For instance, I didn't know anything about the author's history and didn't get that Ezra Blazer was modeled on a real person. (A real person who was very famous but whom, nevertheless, I have never read. Maybe that's why I didn't get it.)
I absolutely loved the first section. I wanted the story to go on and on, though I could see that it probably couldn't go on much longer. And then, the book would have been so much less than it is. I loved the characters and the dialog most of all. Most people don't want to work too hard to find hidden meanings in a novel. I don't mind it, but am sorry to say I just didn't enjoy the second section of the book (Amar's story). My mind wandered. On reflection, I appreciate the whole book more now than when I was reading it (and finished the book wondering whether I should reread the middle part). Halliday definitely pulled off a rather amazing intellectual feat. In retrospect, I like thinking about the structure, the many forms of asymmetry encompassed, the varied and interwoven themes (the book has a sort of musical structure), and the characters' reflections on art and life, truth and imagination. I certainly highlighted a lot of passages (and read many of them aloud to my husband).
I wish I had known more going into it. And I think I'm talking myself into rereading.
There's also some great writing, startling images. Here's a favorite:
"Light shimmered in the trees, whose leaves, when the wind ran through them, sighed like the gods after a long and boozy lunch."
---
An American Marriage, by Tayari Jones
JANUARY 2019 — I was completely engrossed in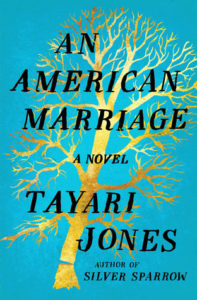 and blown away by this accomplished work. The story, the spectacular writing, the memorable characters, all of them with their better angels and human failings. And you will want the very best for every one. Didn't someone call it a "great American novel"? I think it is. I'd suggest not reading much about the story in advance. Just read it.
I read the book, but Goodreads friend Kelli says that the audio is sublime, gorgeous in cadence and rhythm, mesmerizing. I might have to listen to it.
---
The Word is Murder, by Anthony Horowitz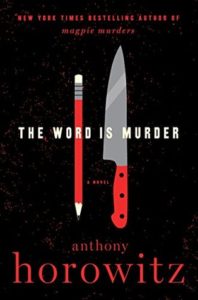 JANUARY 2019 — Wow! This is phenomenal. I loved this and read it faster than almost any book ever. I love the quirky structure, in which Horowitz becomes a character in his own story, a sort of Watson to Hawthorne's Sherlock. Brilliant. I also loved trying to figure out whodunit. I had a hunch early on, but couldn't understand the how or why, so kept considering other possibilities. The story kept me on my toes and wholly engrossed all the way.
Goodreads reviewer Liz says, "I loved how this is some crazy mix of mystery, memoir, essay on how to write, how a tv show is created, all rolled into one." And I agree.
On Goodreads, this book is identified parenthetically as "Hawthorne #1." So it seems it's the first in a series. I can't wait for more.
---
The Thirteenth Tale, by Diane Setterfield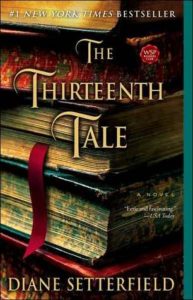 JANUARY 2019 — This was a long, delicious, wonderful read. One of those books you read like the wind, even though you don't want it to end. Wonderful storytelling, brilliant scene and mood setting. It's dark and gothic and twisty, and kept me constantly guessing and second-guessing. And on top of everything else, it's a book-lover's delight.
If I'd been reading this on Kindle, I'd have been highlighting constantly. As it is, I lightly marked dozens of pages with pencil, pages to return to — sentences, descriptions, paragraphs to savor.
This book has been on my shelf (unread) for years. I'm sorry I put off reading it for so long. On the other hand, I've waited long enough that there's a new novel out by Setterfield! Can't wait! I would read anything by her.
I also loved the "Conversation with Diane Setterfield" that follows the novel in the paperback edition. I especially identified with the following: "I crave an existence where I live in a library/kitchen with an endless supply of food and books, and nothing to do but read and eat. I never seem to have enough time to read, and to be honest, I don't know how much reading I would need to feel properly satisfied. Twice as much as I have now? Three times as much?"
The Cartographer of No Man's Land, by P. S. Duffy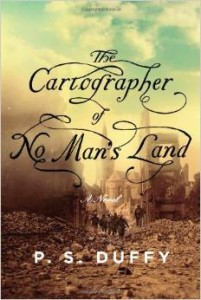 This is an accomplished and beautifully written novel, quality historical fiction with memorable characters, passion, devastation, and beauty. The chapters alternate between the fishing village of Snag Harbor, Nova Scotia, and the French Front during WWI. The point of view shifts between Angus McGrath, a coastal trade skipper and amateur artist and his 13-year-old son, Simon Peter. When Angus's beloved brother-in-law is reported missing in action in France, Angus enlists — against his father's wishes — with the hope of finding him. Though assured of a job in a London office as a cartographer, Angus is instead shipped to the Front and finds himself leading his men through battle after battle — trench warfare with all of its horrors: shells, howitzers, mustard gas, flamethrowers, blood and gore, and futility. Despite the senseless brutality of war, there are moments of tenderness and brotherhood among Angus and his comrades. Humanity in the midst of numbing inhumanity.
On the home front in Snag Harbor, Simon Peter negotiates his own world of complex emotions and relationships. He terribly misses his father and fears that Angus will never come home. Meanwhile he helps his mother, tolerates his grandfather, befriends and tries to defend a favorite teacher, meets a girl, and helps various others in need. He learns that the world as he thought he knew it can change at any moment, and that people are not always what they seem. There are enough plot twists and surprises in both story lines to keep the reader turning pages. And there are stunning moments of gentleness and beauty — the beauties of nature and of the human spirit — that can take your breath away.
Map, compass, North Star, lifeline. A sense of direction. These guides recur throughout the book, a book that uses the metaphors of maritime navigation to speak of a deeper, interior journey, a navigation of the inner life — the delicate balance of truth and lies, the swells and troughs of human emotion, the many sides of human nature, its kindness and its cruelty. It's a book about love, duty, honor, bigotry, manhood. But it's also about holding steady in the face of natural disasters and human error, keeping faith in the face of the unknown, holding on to one's integrity, sanity, and moral compass in the midst of war, loss, and disappointment.
— Originally posted at Goodreads.com, Feb 6, 2014