I read a lot of fiction and write occasional reviews. Some of my favorite books are listed below. You can also find more reviews on Goodreads.com.
---
The Cartographer of No Man's Land, by P. S. Duffy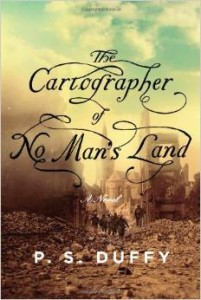 This is an accomplished and beautifully written novel, quality historical fiction with memorable characters, passion, devastation, and beauty. The chapters alternate between the fishing village of Snag Harbor, Nova Scotia, and the French Front during WWI. The point of view shifts between Angus McGrath, a coastal trade skipper and amateur artist and his 13-year-old son, Simon Peter. When Angus's beloved brother-in-law is reported missing in action in France, Angus enlists — against his father's wishes — with the hope of finding him. Though assured of a job in a London office as a cartographer, Angus is instead shipped to the Front and finds himself leading his men through battle after battle — trench warfare with all of its horrors: shells, howitzers, mustard gas, flamethrowers, blood and gore, and futility. Despite the senseless brutality of war, there are moments of tenderness and brotherhood among Angus and his comrades. Humanity in the midst of numbing inhumanity.
On the home front in Snag Harbor, Simon Peter negotiates his own world of complex emotions and relationships. He terribly misses his father and fears that Angus will never come home. Meanwhile he helps his mother, tolerates his grandfather, befriends and tries to defend a favorite teacher, meets a girl, and helps various others in need. He learns that the world as he thought he knew it can change at any moment, and that people are not always what they seem. There are enough plot twists and surprises in both story lines to keep the reader turning pages. And there are stunning moments of gentleness and beauty — the beauties of nature and of the human spirit — that can take your breath away.
Map, compass, North Star, lifeline. A sense of direction. These guides recur throughout the book, a book that uses the metaphors of maritime navigation to speak of a deeper, interior journey, a navigation of the inner life — the delicate balance of truth and lies, the swells and troughs of human emotion, the many sides of human nature, its kindness and its cruelty. It's a book about love, duty, honor, bigotry, manhood. But it's also about holding steady in the face of natural disasters and human error, keeping faith in the face of the unknown, holding on to one's integrity, sanity, and moral compass in the midst of war, loss, and disappointment.
— Originally posted at Goodreads.com, Feb 6, 2014