Just Saying, by Rae Armantrout
Wesleyan University Press, 2013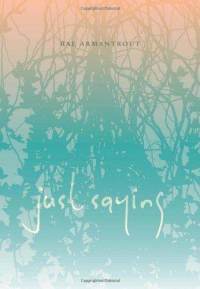 I read Just Saying quickly, but marked many pages to return to. First off, I love the title. I only wish I'd thought of it first. Just saying: What we say when we want to make a point and yet maintain a light, inoffensive tone. I feel as if Armantrout is saying "Here's something I happened to notice. Have you noticed that? Have you been thinking the same thing? Is this perhaps something we should keep in mind?" At the same time, the title calls to mind WCW's "This is just to say." In both cases, the point is in saying it. We all write poems just to say, don't we?
What I love about Armantrout is that the reader is necessarily involved in the poem making. You have to read between lines, fill in the blanks, and connect the dots. Certain lines leap off the page and grab me. Others send me back to the beginning of the poem. I always feel immersed, part of the poem, as if looking around it from inside it. As if. A phrase that Armantrout uses a lot.
Read the full review at Goodreads.
 ________________________________
Miss Plastique, Poems by Lynn Levin
Ragged Sky Press, 2013
"Just one word – plastics," we were advised in "The Graduate." And then, suddenly, they were everywhere — from toys to rolling pins. Cheap, mass-produced, artificial, phony. Today, the word conjures the ultimate in materialism and excess: credit cards. Plastique, itself, is an obsolete term for a plastic explosive. Soft, moldable, versatile, it can take on different shapes. Quick! How is an explosive like a woman?
Imagine!
Something that looks like dough
can kill you. I love the stuff
with a self-love
I never knew I had.
– "Miss Plastique"
The poems in this collection display Levin's studied attention to craft and a delightful versatility. She is equally at home with received forms (sonnet, villanelle, sestina, aphorism) and free verse. But all of the poems are imbued with attention to form, space, and pacing — even when not explicitly formal. She often plays with form and narrative structures we recognize to render a double-edged message, to add another layer of meaning to a poem.
Read the full review at The Rumpus.
________________________________
What Glorious Possibilities, Poems by Jim Zola
Kelsey Books, Aldrich Press, 2014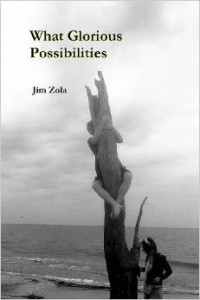 Zola's poems are sometimes quirky, sometimes a bit surreal. But always honest and searching. The language is fresh, the images concrete, unexpected, and often arresting. The poet's attention shifts and settles on one image after another, something like the sunlight that he describes moving from object to object in a room,"setting fire to a dinged lampshade, loved books, the dog mid-twitch. . . ." Because of this, it's easy to see the world from the narrator's point of view. And of course, this kind of seeing leads to another kind: it lets us see within. Zola gives us a house of the imagination and lets us peer through the windows.
See the full review at Wild Goose Poetry Review.
How It Happens by Jim Zola  
One night the world seems right
moon in place
dog snoring
lightly at the foot of our bed
By morning the faucet in the bathroom drips
it didn't before
I resort to my usual tools
my phillips screwdriver
my red plumber's wrench
my curses and pleas
This is the next to last straw
a broken lace on the shoe of madness
you laugh say
a cockroach can live for days
without its head
Then I'm tapping a tune on the pipes
La Cucaracha
and you are shimmying naked
down the hallway.